For Release Immediately: March 21, 2022
Hermosa, SD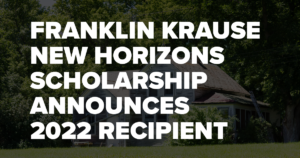 The Franklin Krause Foundation, established within the South Dakota Community Foundation, is pleased to announce the 2022 New Horizons Scholarship has been awarded to Kyah Thomas of Rosholt, SD. Applicants must complete an application, essay and submit two letters of recommendation. The $1,500 scholarship is awarded based on academics, leadership, community service and extracurricular activities.
Kyah has excelled with her high school academic career and successfully got involved in many extracurricular activities, after-school jobs and volunteer opportunities. She plans on pursuing the dual-degree option from Lake Area Technical College and South Dakota State University.
The Scholarship Selection Committee would like to thank all of this year's applicants for taking the time to apply. We wish all of the applicants much success with their college efforts.
If you missed out on this year's scholarship competition, you will be able to fill out the 2023 scholarship application from the website beginning in July 2022. You can find the application and complete submission instructions on the franklinkrausefoundation.org website. The application deadline is March 1, 2023, and we will announce next year's winner in April 2023.