For Release Immediately: March 22, 2023
Hermosa, SD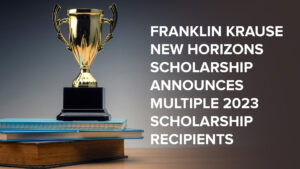 The Franklin Krause Foundation, established within the South Dakota Community Foundation, is pleased to announce the 2023 New Horizons Scholarship has been awarded to Zoey Bohnenstingl of Lidgerwood, ND and Morgan Navratil of Rosholt, SD. Applicants must complete an application, essay and submit two letters of recommendation. The $1,500 scholarship is awarded based on academics, leadership, community service and extracurricular activities. With the superb quality of applicants this year, the New Horizons Scholarship committee awarded two scholarships.
Zoey Bohnenstingl has excelled in her high school academic career at Lidgerwood High School and is involved in many sports and extracurricular activities. She is employed locally, including having her entrepreneurial business ventures. Zoey has dedicated time to her local retirement center, local park board, and various church opportunities. She plans to pursue her Business Management degree at North Dakota State College of Science and potentially furthering her education at North Dakota State University.
Morgan Navratil has successfully mastered her academic career, including taking dual credit classes, while at the same time competing successfully in high school sports. She volunteers in multiple capacities in her community, church and assisted living facility. Morgan is also employed at a local Rosholt business. She plans to pursue her Business Administration degree at North Dakota State College of Science and potentially continue at North Dakota State University.
The Scholarship Selection Committee would like to thank all of this year's applicants for applying and congratulate Zoey and Morgan for being named New Horizon scholarship recipients. We wish all the applicants much success with their college efforts.
If you missed this year's scholarship competition, the opportunity to complete the 2024 scholarship application on the website begins in July 2023. You can find the application and complete submission instructions on the franklinkrausefoundation.org website. The application deadline is March 1, 2024, and we will announce next year's winner in April 2024.